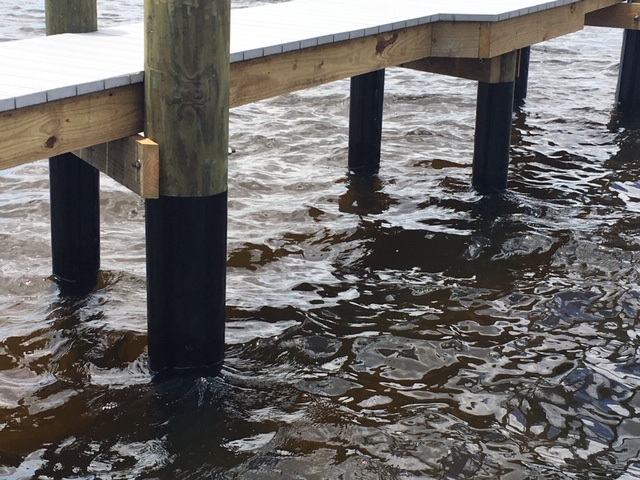 Dock piling wraps are a reliable and effective solution for protecting the vital structural components of docks and other marine structures. These wraps, made of durable materials such as plastic or vinyl, provide an additional layer of defense against the damaging effects of marine borers, UV rays, decay, and other environmental factors. By affixing securely to the outside of the dock piles, piling wraps create a barrier that shields the wood from deterioration, extending the lifespan of the dock and ensuring its structural integrity.
Piling Wraps
Piling wraps are made of durable materials like plastic or vinyl. They are designed to be affixed to the outside of the piles, providing protection against marine borers and other forms of damage. Piling wraps are convenient because they can be installed after the piles are already in place, making them suitable for existing docks. SnapJacket offer plastic wraps that can be snapped around the pile and sealed with concrete, providing structural support to decayed or eroded wood.
Piling Sleeves
Piling sleeves offer comprehensive protection for the entire pile. They are typically made of PVC and are fitted over the pole at a lumber yard or manufacturing facility. The watertight sleeve is heat-shrunk onto the pole, ensuring a secure and durable protective layer. Piling sleeves provide defense against UV damage, marine borers, and decay. Unlike wraps, piling sleeves need to be fitted before the dock is installed.
Both piling wraps and piling sleeves serve the purpose of safeguarding the piles of marine structures. The choice between the two depends on the specific needs and requirements of the project. It's important to consider factors such as installation convenience, existing dock conditions, and the level of protection desired when selecting the appropriate solution.
Beach to Bay Dive Services started in early 2019 as a commercial dive service. Our team continues to provide our customers with the peace of mind knowing that each dock piling wrap will be performed correctly from conception to completion at a fair cost. Our reputation has been and continues to be our best advertisement. Recently, Beach to Bay Dive Services has transitioned to Beach to Bay Divers and Pools. Our experienced pool technicians provide a level of service and repairs that assure our pool customers have that same peace of mind as our dive service.